Hey, kiddos!
The Blogger Formerly Known As futuremrsrickankiel here. Been a while and all that... I've had my hands full keeping you up-to-date on the Bruins' current gem of a season over att
Mass Hysteria
, and have let my making-fun-of-shitty-NFL-players duties fall by the wayside.
Tonight, though, is simply too good to pass up, as a team I loathe with every fiber of my being and a team I've been crushing on since Week 3 meet up for one of the biggest games of the season. Yes, it's the Panthers at the Giants, as two mighty 11-3 teams square off for guts, glory, and homefield advantage in the playoffs. My Patriots won, the Jets lost, Phil Kessel's point streak is at 18 games, and I'm feeling magnanimous despite my hangover. Let's liveglog this shiz, fools!
Join me as I take on the task of liveglogging this NFC barnburner while trying to restrain myself from putting my fist through my television during those insipid "He went to Jared!" ads. Die in a fire, you gold-digging harpies.
It's 7-3, Panthers, by the way. At some point, the Giants are going to realize they have to run triple coverage on Steve Smith. It doesn't look like we've reached that point yet.
4:15, 1st.
Brandon Jacobs is a freaking monster. He's the only Giant I do not hold in utter contempt. Mostly because I'm kind of afraid of him. Here he is again at the 46, creating yards gained out of literally nothing. DAMN IT BOOOOOO!
2:45, 1st.
Jacobs again. I'm sensing a theme. And AGAIN. 3rd and 3 for New York at the 31. Julius Peppers is looking unusually helpless. Argh John Madden talking is NOT helping my hangover.
We're at the end of the first quarter and it's still
7-3, Panthers
. As a Patriots fan, I'm routinely starved for a running game, so I can't say I'm not a wee bit titillated by the Jacobs/Williams/Ward/Stewart mashup currently on the field tonight. Also, it's cold in New Jersey tonight, so we can play my favorite game: Watch Tom Coughlin's Face Turn Purple!
13:38, 2nd.
BRANDON JACOBS TOUCHDOWN. The Giants' O-line appears to have tightened up after last week's sack party. Bummer. I love watching Eli get sacked. I'd embed a video of a Manning sack, but I just went to YouTube to look for one and all that came up when I looked for "eli manning sack" were Superbowl XLII highlights. FUCK YOU, INTERNET.
11:54, 2nd.
J-Stew takes it to the 48 for the PANTHERS WOO! Did I mention I kinda dig the Panthers? Also, can we laugh about Tim Tebow being projected as a tight end in the NFL draft? Heh. Hehehehehehe. Wendy's commercials irritate me to the point where I think I'm secretly cheering for Type II diabetes. J-Stew appears to have gotten hurt on that last run, but walked off the field.
10:18, 2nd.
DeAngelo Williams can run fast wooo.
8:50, 2nd.
2nd and goal for Carolina. Williams has it in for a TOUCHDOWN and the Panthers are back up 14-10... "much to the consternation and exasperation of Tom Coughlin." Thanks, Al Michaels! Coughlin's current facial hue: pomegranate. I have one of those stuffy noses where no matter how much I blow my nose it won't clear out. Bah.
8:07, 2nd.
Wait, Eli Manning's in the Pro Bowl? How did I not hear about this? Oh, right. I did. A HUNDRED MILLION FUCKING TIMES. Wait, and he has a brother? Who also plays football? GUHH. Also, "empty patch of turf"? Ineligible receiver, Eli my dear. Madison Hedgecock has a carry, for some reason, and the Giants appear to be struggling to regain the offensive rhythm they displayed on their last drive... a speedy 3-and-out. Panthers have it at the 35. COUPLES IN HOLIDAY COMMERCIALS MAKE ME WANT TO PUNCH THINGS. "Oh, honey, you got me a Lexus? This totally makes up for your sexual inadequacies! I'M SO HAPPY!"
5:02, 2nd.
HOLY SHITE. A yoooge high Jake Delhomme pass is nearly picked off by Aaron Ross, but Muhsin Muhammed is THERE to make the 60-yard catch and set the Panthers up for a 1st-and-goal, just like that. My god that was sexy. BOOM it's another Panthers TD and STEVE SMITH OWNS YOUR SOUL. Whee! Coughlin (current facial hue: maroon) is challenging the play, claiming that Smith was out of bounds before crossing the plane, which may actually be true I guess WHATEVER. I'm dying of sinus disgustingness and you don't see ME complaining. Or I guess you do, actually. Shit. Whatever. Still, that pass was pretty freaking excellent for a team that's got a mediocre passing game at best. The challenge is upheld, by the by, and the Panthers will take the ball at the half-yard line. Eff that noise, says DeAngelo Williams, who vaults over the Giants D for his third (motherfucking) touchdown of the game.
21-10, Panthers.
John Madden is on the verge of shedding sloppy, ranch dressing-flavored man tears of joy while reminiscing about Sammy Baugh. Gag me.
3:14, 2nd.
ELI MANNING SACKED! You know what this means.
2:00, 2nd.
The Giants have elected to start running coverage on Steve Smith. ZOMG someone must be reading my liveglog!
1:50, 2nd.
Another almost-INT from Jakey. Carolina will punt. Ahmad Bradshaw drops the punt but recovers it to put the Jints at the 45 with a little over a minute to go in the half. Derrick Ward has a monster run to put New York at the 20 or so. Tom Coughlin facewatch: deep magenta. Eli tries to pass for some reason. Passes AGAIN (seriously, what the fuck is he doing?) only to have it knocked away by Julius Peppers and nearly intercepted. New York will settle for a field goal, and NBC will settle for another Old Timey Football Flashback(TM) rather than discuss anything pertaining to the considerable storylines surrounding this game. It's all so predictable.
0:45, 2nd.
Williams is stuffed at the 35 as the Panthers appear to be running down the clock rather than risk a turnover. They'll go into the half with a
21-13
lead. To sum up: the Giants can run but cannot pass, I'm down almost an entire box of tissues, John Madden is old, and there's no fucking way I'm sitting through an NBC halftime show so I'll catch you kids on the flip side.
15:00, 3rd.
Here we are! The Panthers will start with the ball on the 33. Justin Tuck has the flu, apparently, which is a big frowny face for the Giants. First down for the Panthers, as we learn that Jonathan Stewart apparently had a head injury in the first half but is now back on the field. I'm being boring, aren't I? Goddamn it. This is actually a good game, so there's only so much sarcasm and unnecessary hyperbole I can bring to the table. DAMN YOU, QUALITY FOOTBALL! You give me so little to work with.
12:42, 3rd.
Yikes, there's ANOTHER Delhomme pass that was millimeters (what is this, the CFL?) away from being picked off. Carolina will punt on a 4th and 4. Also, I'm fully aware that I'm like the ONLY person in the world that likes those Coors Light ads where they splice in audio clips of NFL coaches, but I think they're awesome so put a sock in it.
11:22, 3rd.
The Giants are running a shotgun offense, for some reason, and it's (not surprisingly) unsuccessful. Too bad about Plax, guys! It's pretty evident to me, with my vast wealth of finely-honed football knowledge, that both Delhomme and Manning would do well to take a back seat for the rest of this one and just let their star running backs carry the game. But what the fuck do I know? Tom Coughlin facewatch: eggplant.
9:42, 3rd.
I hope someone buys me a Steve Smith jersey for Christmas. I need a boyfriend to buy me things. AHH FUCK! I've been watching too many holiday commercials! In other news, the Red Wings/Blackhawks game at Wrigley looks SO FREAKING COOL I kind of want to blow off my current New Year's plans (hipster kid parties in Brooklyn/avoiding Manhattan like the plague) and go.
8:06, 3rd.
Our first flag of the game, as a struggling Eli Manning is called for "delay of game" to make it a 3rd-and-10 for the Giants... Kevin Boss makes the catch for a first down. Brandon Jacobs looks like he might be hurt, which I'd venture to say would probably mean curtains for the Giants. Here comes Ward, though, who has ANOTHER massive run for a 23-yard gain. New York has yet to make it to the red zone... but here's the oft-forgotten Amani Toomer with a catch.
3:00, 3rd.
Am I missing something? Madison Hedgecock has a freaking catch to give the Giants a 1st-and-goal. GOD IT'S SO IRRITATING WHEN TEAMS I HATE ARE COMPETENT AND WELL-BALANCED. Carolina's Chris Harris smashes into Brandon Jacobs to prevent the TD... he'll be feeling that in the morning.
0:59, 3rd.
TOUCHDOWN, GIANTS. They won't try to convert, and it's now
21-20, Carolina
. This seriously is a great game, by the way. I hope you're watching, and not doing something lame like "spending time with your family" or "buying Christmas presents" or "enjoying the quiet majesty of a winter wonderland."
0:00, 3rd.
Muhsin Muhammed catches it at the 50 to give the Panthers a first down as the clock runs out on the third quarter. I'm getting sleepy. I want tea and a Steve Smith touchdown.
13:25, 4th.
The Panthers are still in the middle of this drive, but Delhomme has a beautiful completion to HOLY GOD DEANGELO WILLIAMS JUST SCORED ANOTHER FUCKING TOUCHDOWN. SWEET MERCIFUL HORSEDONG.
28-20, Panthers.
Does anyone else find the unintentional irony in these commercials about a baby investing money in the wake of the biggest investment scam in history kind of awesome?
11:20, 4th.
The Giants line up in a pass formation, but will hand it off to Brandon Jacobs in what I can only assume is a nod to common sense. Here comes Derrick Ward to take it to the 33. There are 335 total rushing yards to only 287 total passing yards. Admit it: you're impressed by my ability to analyze football using "numbers" and stuff. The Giants fail to capitalize on Jacobs and Ward's hard work, and will wind up punting on a 4th-and-15. Jeff Feagles is a very good punter but you won't see me writing a fucking sonnet about it. Did I mention I don't like the Giants?
7:25, 4th.
Current Tom Coughlin facial hue: Is "yelling at people" a color?
7:09, 4th.
The Giants have it at the 48 but they're called for a false start (the game's 2nd flag). Nice Eli pass (bah!) for a first down. The tall-and-awkward Toomer comes up with a huge conversion to take the Giants to the 22, and I'd wager that a lot of fans in Giants Stadium are currently second-guessing Tom Coughlin's decision not to go for 2 after the last touchdown. 3rd and 5.
4:06, 4th.
Boss for the first down. And here I was cherishing dreams of Giants fan dreams drowning in a sticky quagmire of field goals, tears, and failure. FUCK ME there's a pass interference in the end zone from Carolina, and Brandon Jacobs will stroll it in as nicely as you please for the touchdown. Will Tom Coughlin kick the extra point, or go for the conversion? OH IT'S ALL SO EXCITING.
3:21, 4th.
Giants tie it up on the conversion. I guess that's a big deal and shit so here's an exclamation point: !
3:56, 4th.
Mark Jones takes it to the Carolina 38 to kick off will HOPEFULLY be a successful scoring drive. My suggestion, Panthers? GIVE THE BALL TO DEANGELO WILLIAMS. Carolina is taking their time as we approach the two-minute warning. My sister is bringing me Nyquil. Everything's going to be ok, kids.
1:51, 4th.
Hokay as awesome as Steve Smith is, he'd not doing shit with double coverage on him. Allow me to repeat, Carolina: GIVE THE BALL TO DEANGELO WILLIAMS.
1:25, 4th.
Muhsin Muhammed for the first down. Delhomme DROPS the fucking ball but HERE COMES DEANGELO WILLIAMS OH MY GOD I HAVE SEE THE FACE OF OUR LORD AND HIS NAME IS DEANGELO. Guhh, a sloppy holding penalty on Steve Smith (seriously, boo, WHAT is your deal tonight) will cost the Panthers yards, but they've still got the first down. Justin Tuck looks like I feel. I'd feel sorry for him if he weren't a fucking Giant.
0:54, 4th.
DeAngelo's in on the Wildcat formation... 3rd-and-6, Panthers. AHH DAMMIT Williams is down, and here comes a 50-yard field goal attempt from Carolina. What a superb game this has been... plus, I've learned more about K balls and the apparently really interesting and complex methodology for storing them than I ever wanted to know. Thanks, Al and John!
FUCK IT FUCK IT FUCK IT MISSED THE FIELD GOAL. Here comes overtime!
The Panthers lose the coin toss... damn you, Delhomme, you are just ANTS AT A MOTHERFUCKING PICNIC today.
14:07, OT.
THREE AND OUT FROM THE JINTS. HerewegoPanthers! Tom Coughlin facewatch: The Masque of the Red Death.
12:31, OT.
Well goddamn it. There's a 3-and-out from Carolina, too. Oh, but R.W. McQuarters DROPS it! He'll recover it at around the New York 19. Brutal! Also, I'm really glad I took out my nose ring because my nose is currently a mess and a half. ACK WHAT WHAT WHAT here comes Derrick Ward with ANOTHER beastly beast of a run to carry it all the way out to around the Carolina 40. Hot damn! That's 184 freaking yards on the night for Ward. Here comes another incomplete Eli pass. WHY IS ANYBODY BOTHERING TO PASS IN THIS GAME?
11:01, OT.
Once again, the Giants line up in the shotgun but give it to Ward, who gets the first down. WOO RUNNING GAME! No thanks to you, Steve Smith, whom my good pal
Grimey
has honored with the following: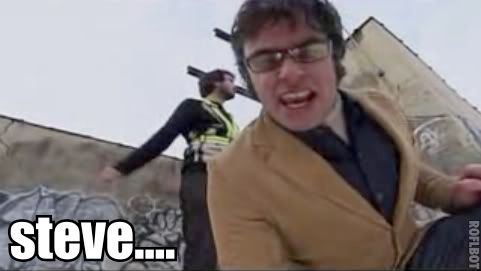 10:24, OT.
216 yards for Ward as he takes it in to give the Jints a 1st-and -goal... GODDAMN IT THERE'S BRANDON JACOBS IN TO WIN IT FOR THE GIANTS.
Giants win,
34-28
. That was a pretty freaking phenomenal game, I SUPPOSE. Guhh. Time to go upstairs and try to fall asleep despite not being able to breathe through my nose. If the Giants win the goddamn Superbowl again I will never watch another minute of NFL football.
Labels: live